Texas Classics I
Books that Matter in Editions That Inspire
Nicholas Doran P. Maillard.
The History of the Republic of Texas, From the Discovery of the Country to the present Time; and the Cause of Her Separation from the Republic of Mexico.
London: Smith, Elder, and Co., Cornhill, 1842.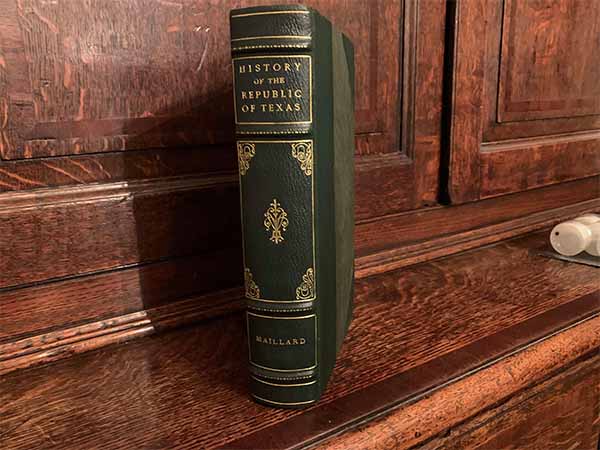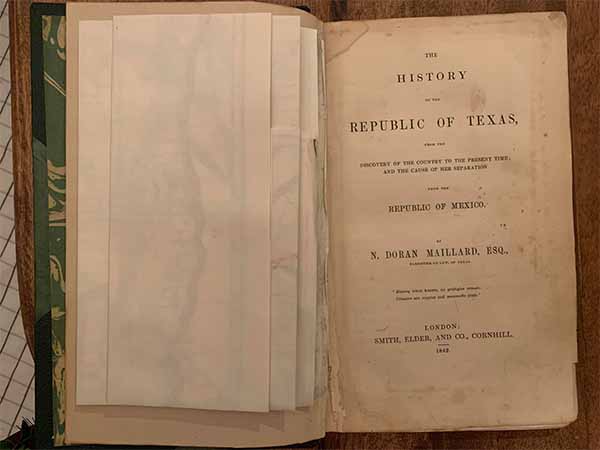 As some of you know, I am an avid book collector. Since 1986, I have been slowly acquiring volumes identified by the late John H. Jenkins in his 1983 bibliography Basic Texas Books: An Annotated Bibliography of Selected Works for a Research Library. I currently have all of them . . . except one. You cannot imagine how much that bothers me.
In this space, I will discuss some of my favorites, books that have not only depicted the Texas experience but also defined it. I hope fans of the website will find these chats both instructive and revelatory. We will be talking about Texas books, Texas authors, and the finer points of book collecting.
I recently purchased a volume on which I never dreamt I would be able to lay my grubby hands. It is a first edition of Maillard's The History of the Republic of Texas. If you don't know about this book, don't feel bad. Few do. It is extremely rare and, consequently, most folks have never heard of it.
Mr. Maillard, an Englishman, reported that the Texas Republic was "a country filled with habitual liars, drunkards, blasphemers, and slanderers; sanguinary gamesters and cold-blooded assassins."
Jenkins opined that Maillard's book is "the most vitriolic denunciation of the Republic of Texas, written with absolutely no regard for the truth." He was not wrong in his assessment. Given the volume's unsavory reputation, most Texas historians have traditionally discounted it out of hand.
And that's a shame. If one is willing to dig for them, many nuggets reside among the poppycock. I, for one, found it valuable while researching Texian Macabre, as he included observations concerning early Houston City that one can find nowhere else.
Especially interesting are his observations concerning Houston's Rowdy Loafer slang, or "flash," vernacular. "When speaking of those men who have been fortunate enough to gain their esteem, they say, 'He's an up-street man, that'—'A right smart man,'—'A pretty considerable of a man,'—'A tarnation tall man': this last expression, when applied to some of their eminent men who happen to be considerably under the middle standard, is far more amusing than all the rest of their peculiarities, and cannot fail to probe the gravity of a stranger."
Also fascinating—and more than a little chilling—is Maillard's description of the Texians' signature weapon: "The real Bowie knife has a two-edged blade, about nine inches long, slightly curved towards the point, and sufficiently thick in the back to serve as a chopper, in which way it is very formidable, but not so much as in thrusting; the blade is covered with a sheath, and, when neatly got up, as some of them are, it forms a pretty ornament enough when peeping from under the corner of the waistcoat, or over the waistband of a pair of Texas trowsers."
I had never seen a first edition of Maillard for sale. Therefore, when I came across a copy at Pratt's Books in Graham, I did not hesitate.
Sadly, it is not in its original binding (books this old seldom are) but a previous owner had it sumptuously rebound.
Thanks to David and Gayle Pratt, dear friends who also happen to operate the state's best bookstore.