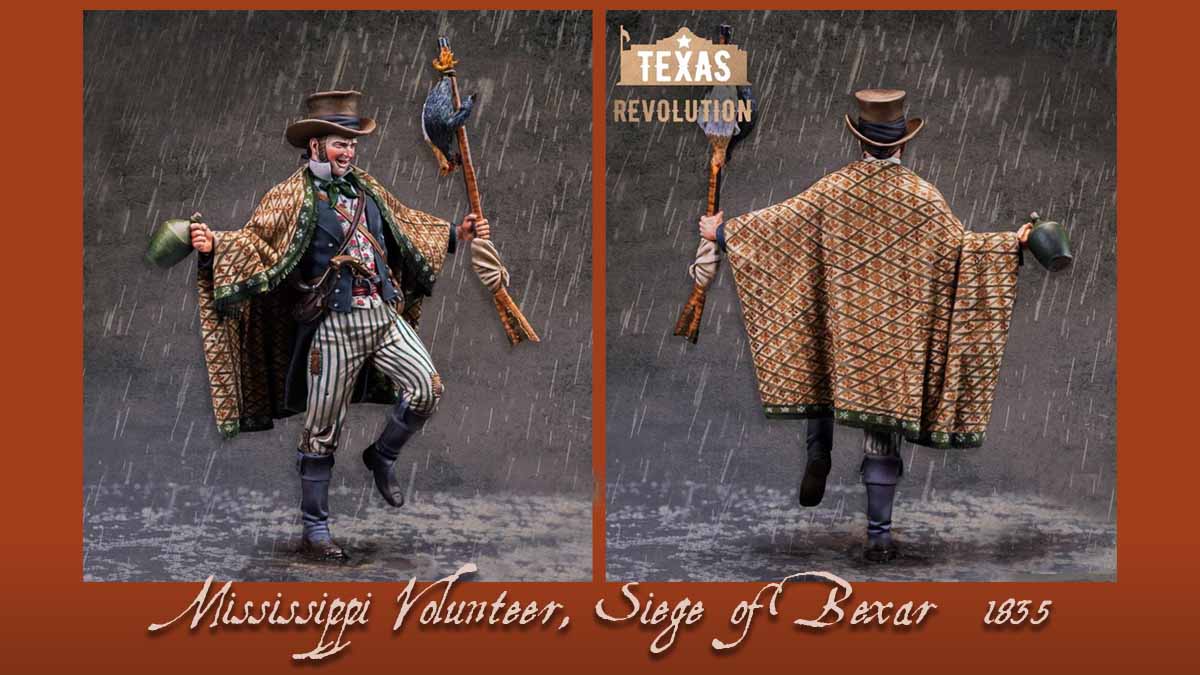 Texian Iliad's Mississippi Volunteer Translated into a Military Miniature
I have painted military miniatures—not to be confused with "toy soldiers"—since I was a kid. Now, well into my sixth decade, it remains my only hobby. Consequently, I was over the moon when the good folks at Scale 75 informed me that they wanted to employ Gary Zaboly's illustrations in Texian Iliad as the inspiration for their new "Texas Revolution" line.
The first figure in the series is the Mississippi Volunteer at the Siege of Béxar, 1835. The 75 millimeter figure is cast in high quality resin. World Master Julio Cabos painted the box art and it is magnificent! Thanks also to Brian Howard of Scale 75 USA for nurturing the project from conception to fruition.
I wrote the Painting Guide and the Collectors' Description Card that arrives inside the box with each resin casting. The Description Card text appears below:
Mississippi Volunteer
Seige of Béxar
1836
On October 2, 1835, the Texas Revolution begins at the Battle of Gonzales. Soon thereafter, United States volunteers begin arriving to assist the rebellious "Texians" but also to procure generous land bounties.
The lad enjoys a lively frolic. Never before has this southern beau had to forage for his breakfast, but he displays a genuine aptitude for at least one aspect of military life. The trophies from his latest foray adorn his rifle barrel. He is vain, slothful, and ill-disciplined —typical of most recruits from the "old states."
Having sampled the contents of his earthenware jug, this roisterous fellow is more than a little ebullient. While lacking food, clothing, and ammunition, the "Volunteer Army of the People of Texas" never seems to want for corn liquor. During the 1835 Siege of Béxar, soused soldiers provide General Stephen F. Austin with a thorny predicament. "In the name of almighty God," he implores the officials of the Texas Provisional Government, "send no more ardent spirits into this camp—if any is on the road turn it back, or have the head [of the barrel] knocked out."
Notwithstanding Austin's entreaties, our boy manages to remain well lubricated.
Brian informs me that three other figures in the Texas Revolution series will appear in 2019. When they are released, I will alert my loyal readers on this website. So check back often.