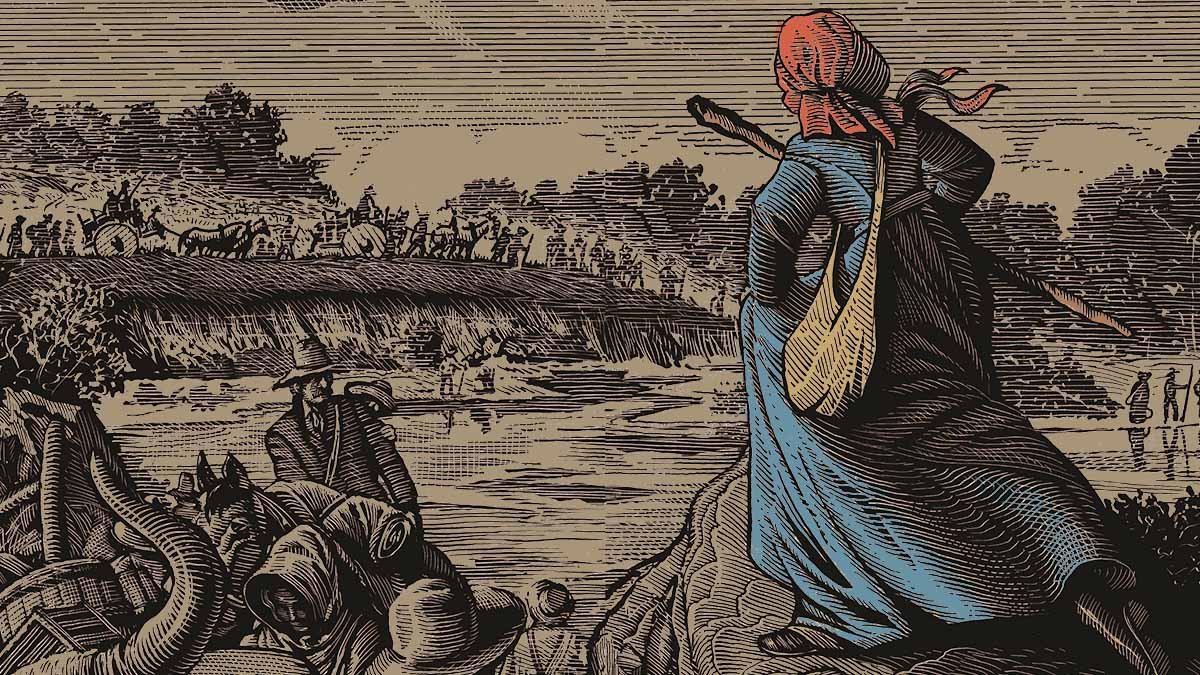 Over the years, I have collected an abundance of material on the Runaway Scrape, a somewhat obscure topic concerning a very traumatic event during the Texas War for Independence. A few snippets from the article titled A Hard Lot: Texas Women in the Runaway Scrape are included here. The whole article can be found on the Archives page.
Captain John Bird told of two widows who were at supper when word came that the Texian army was pulling out. "Having no means of conveyance," Bird recalled, "each woman tied up a bundle of drygoods. Then, each with two children holding to her skirts and one carrying an infant in her arms, they departed." The bedraggled appearance of these two women so moved the soldiers that they discarded vital military stores to make room for them in an army wagon. In the confusion, the soldiers forgot the blind Mary Millsaps, another Alamo widow, and her six children. Upon discovering the oversight, Houston dispatched a squad back thirty miles to retrieve them.
In Nacogdoches, far from the Mexican threat, residents convinced themselves that the Cherokee tribesmen had allied with the enemy and were coming to massacre them. Frightened, they fled in disorder toward the Sabine River, the international boundary between Mexican Texas and American Louisiana. "The panic," observed colonist John A. Quitman, "has done its work. The houses are all deserted. There are several thousands of women and children in the woods on both sides of the Sabine, without supplies or money."
Imaginations ran wild. Harriet Paige, a New York native, described the conditions surrounding the so-called "Norton Panic." The town drunk—a fellow named Norton—had exhausted his supply of whiskey. Unable to secure more, he "wandered about weak and nervous and on the verge of delirium." One of his neighbors had set fire to a cane brake and as the flames rose they began to snap and pop, "like volleys of guns firing."  As Mrs. Paige explained:  Norton was seized with fright and ran down the prairie shouting that the Mexicans were coming to make an attack, burning and murdering as they came. The terrified people soon gathered at his cries and hastily prepared to flee for their lives leaving all their belongings behind them.
Runaway Scrape artwork from the Bullock Museum. Artist not identified.